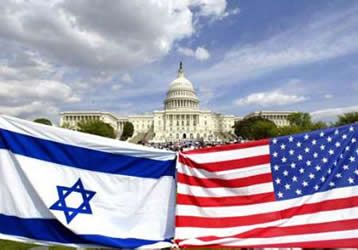 If your senator is not Ron Paul or John Dingell, your representation has just voted YES to a bill to give
Israel
a billion dollars, yes a BILLION, in military resources. The only person to speak out against the bill was Dr. Paul, and you can read his eloquent speech (that was completely disregarded by his colleagues) HERE.
In a country on its economic last legs, where almost as many families are on food stamps as are not on them, couldn't that billion have been better invested here, to make the lives of Americans better?
HR 4133, the United States-Israel Enhanced Security Cooperation Act, is a bill that even requires the
United States
to veto any future bill that is critical of
Israel
. To quote the text of the bill, the purpose is to "reaffirm the enduring commitment of the
United States
to the security of the State of Israel as a Jewish state."
And to that, I think the time has come for us to say, "What the HELL?" Do our members of congress represent their constituencies or a tiny horrid little country that bombs the crap out of innocent Palestinian families? We need to recall our members of congress and replace them with people who will represent their constituencies and the best interests of
America
– not the interests of their Zionist puppet-masters.
It doesn't get more serious or blatant than this. Our entire congress, with only the two afore-mentioned hold-outs, is completely owned by the cult of AIPAC. There is now a LAW that our country must take this country's defense on our own backs. Why would
Israel
be able to dip into OUR national treasury, when Americans are going hungry and becoming homeless at ever-increasing rates?
The bill sets up
Iran
as the official enemy of the world. "Iran may soon attain a nuclear weapons capability, a development that would fundamentally threaten vital American interests, destabilize the region, encourage regional nuclear proliferation, further empower and embolden Iran, the world's leading state sponsor of terrorism, and provide it the tools to threaten its neighbors, including Israel". In reality,
Iran
's only issue is attempting to defend itself from
Israel
.
Iran
has stated numerous times that they do not intend to build nuclear weapons, and that the weapons are in fact, against the laws of Islam.
Israel
, on the other hand, is a secret nuclear superpower – possessing 200-300 nuclear weapons.
The bill supports an ""an expanded role for
Israel
within the North Atlantic Treaty Organization (NATO), including an enhanced presence at NATO headquarters and exercises." If you have been paying attention lately, NATO only exists to bully the world into submission to the New World Order. Giving a small warlike country like
Israel
a bigger role in NATO is like giving the fat kid the jar of lollipops and expecting him to dole them out wisely.
It isn't difficult to read between the lines of this bill and see our future. When
Israel
attacks
Iran
, the
United States
will be drawn into the war.
Iran
has the backing of
China
and
Russia
, who will then be drawn into the war. The miniscule country of
Israel
, with pure evil intent, will draw the bigger countries into a third world war.
And yes,
Israel
IS evil. Please research the difference between being Jewish and being a Zionist before you write and call me anti-Semitic. The heinous war crimes committed by
Israel
against defenseless men, women and children of
Palestine
are not sanctioned or decried by the United Nations. The Gaza Strip is little more than an open-air concentration camp, subject to constant terrorism from Zionist Israel – racially-based terrorism. The International Criminal Court (also highly influenced by AIPAC) has declined to conduct an investigation, saying the
Palestine
is not a recognized state. This means that
Israel
can continue their terrorist attacks (now sponsored by the taxpayers of the
United States
) without fear of reprisal.
So, the next time you pay sales tax on an item you purchase, have income tax withdrawn from your paycheck, or make any of the other "contributions" required by the government, know that YOU are now supporting Zionist Israel because of the vote of your member of Congress.
As for Congress, I suggest we recall them all for betraying their constituencies and start over. We can't do any worse than the Zionist puppets we have now.