Right now, someone with their finger on the button of the war machine of the United States is saying, "Let's score some points with our friends the Zionist supremacist bankers! Why don't we celebrate Purim by bombing the crap out of Iran!?!"
Some things have to be shared whether all the readers like it or not, and the topic of
PURIM
is one of them. Purim (pronounced poor-um) is a Jewish holiday that can be celebrated in two very different ways.
The first, and most common way, is a celebration of salvation of the Jews from Haman through the leadership of Queen Esther. It is a joyous celebration of the release from oppression.
The second way of celebrating Purim is very dark. Even though Queen Esther's efforts saved her people, a thirst for vengeance caused some of those same near-victims to rise up and slaughter 75000 Persians in one day in retaliation for a massacre that never happened.
There are certain sects that openly practice terrorism as a way to celebrate Purim. Some see it as a day to call for war, to plan genocide, and to kill and terrorize those whom they consider "enemies of the Jews". One fairly recent example of Purim mayhem took place on Purim 1994, when
BARUCH GOLDSTEIN
attacked a mosque in Palestine, killing 29 and injuring 125 Palestinian Muslim worshippers. His grave site became a pilgrimage site until a law forced it's dismantlement in 1999.
Historically, Purim has been a day marked by many bloody occurrences, triggered by this second train of thought.
The troubling thing is, it seems that the United States government has been an enthusiastic celebrator of Purim, the dark version, having had a hand in several of the very bloodiest of these episodes of extreme violence. In fact there is a blatant pattern over the past 20 years:
MAJOR US MILITARY ACTIONS OFTEN
This underscores the accusations of Zionism control in the United States, begging the question of who is really in charge of our country: the President of the United States or AIPAC?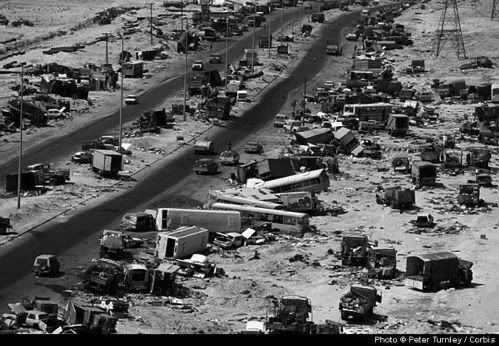 Purim 1991: Desert Storm ended on Purim with the punctuation of a massacre of 150,000 retreating Iraqi soldiers on the
HIGHWAY OF DEATH
Purim 2003: US President George Bush began the
INVASION OF IRAQ
with his "shock and awe" campaign, an attack of which the legality is still in question, as it was undertaken without the authorization of the UN. This war has an unofficial
DEATH TOLL
of 162,333 people, and horrifyingly, more than 114,000 of the dead were made up of civilian men, women and children.
Purim 2011:
OPERATION ODYSSEY DAWN
began with the firing of 115 American Tomahawk missiles on Libya, to end 8 months later with a death toll of more than 30,000 people.
Anyone following the news is well aware of the current tensions in the Middle East. The United States government has been relentlessly bullying Iran with sanctions and, of course, their presence in the Gulf of Hormuz, despite strenuous objections of the Iranian government. The media has been trumpeting this information to all who will listen, in order to prepare us for the fact that we'll be going to war....AGAIN.
This year, Purim occurs from sundown March 7 and lasts until sundown March 8.
Mark your calendars.
The next celebration of violence and vengeance, the war on Iran, and potentially World War III, will begin on the same day.
CHAG SEMEACH PURIM.
FARBLUTIKT PURIM.
(Happy Purim, Bloody Purim)

Thanks again, NinaO. Creds. 
FOOTNOTE TO READERS:
Let's get one thing straight. Making an observation is not the same thing as passing a judgement. Disagreeing with the actions of some of a group of people is not casting hatred upon that entire group of people. In a free country, with the privilege of free speech, we are all allowed to research and report on our observations. Readers are free to agree or disagree as well. None of these is inherently racist, bigoted or anti-Semitic.
There are topics that I have avoided writing about in the past because I didn't want my message to be lost in accusations of bigotry. Please comment respectfully. If the comments section on this post turn into a hate convention, I'll simply disable the comments. I refuse to see an entire community painted with one brush on my blog.