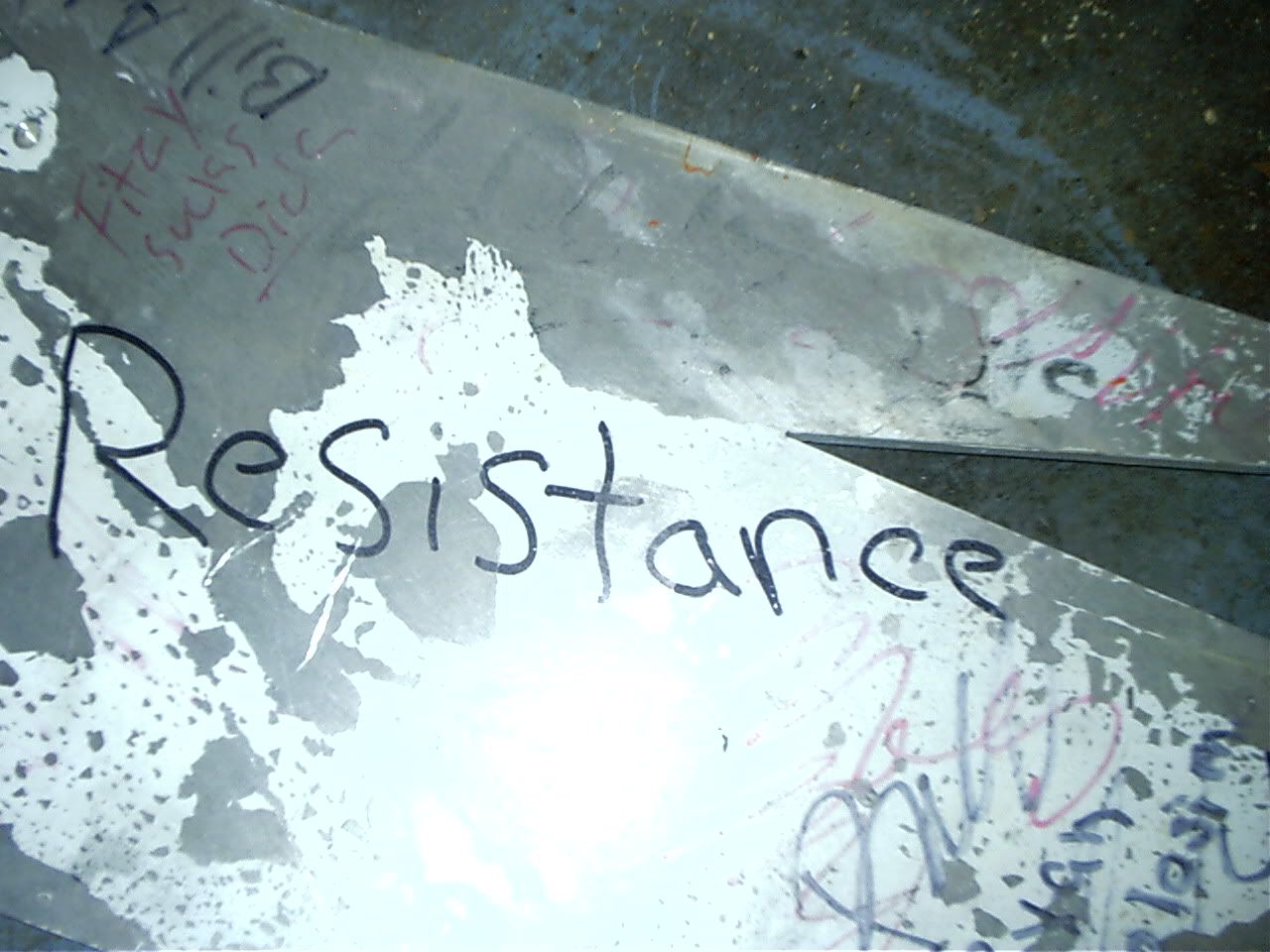 Not all freedom fighters are decked out in camouflage and armed to the teeth, ready to take on the entire corrupt US government in a bloody fight to the death.
Not all freedom fighters are operating secretly, in little groups, surreptitiously planning ways to undermine the efforts of the NWO and Agenda 21.
Not all freedom fighters fall into the categories of being a grizzled and disillusioned veteran, a crazy young rebel, or a well-groomed statesmen, attempting to get enough votes to be able to implement changes.
If you want to see the Freedom Fighters that will turn America around and take her back to her Constitutional roots, then look in the mirror. Yeah, you.
It's up to all of us - the regular, everyday Joes and Janes, to take the country back. The Resistance is going to be made up of soccer moms, grandparents, college students, and construction workers. The army of the Resistance is you and me - the ones who see what is happening and feel compelled to stop it.
Of course, it's much easier to be an armchair revolutionary, typing "Oooh Rah" on our keyboard in a comment on a Patriot website. Actually mobilizing to make a difference is more difficult.
The time has come when there must be action behind the thoughts. No, Men In Black, don't come get me, because I'm not promoting violence. I am promoting a large collection of voices saying
We have to become the squeaky wheels. The mainstream media is the enemy and they aren't going to educate people about the reality of what is going on. We have to make news big enough that they have to cover it in order to answer the questions of the people. We must use our freedom of speech while we still have it.
Is it risky? Certainly. Could it put you on "a list"? Very likely. Consider, though, if you are reading this article and others like it, that bell has been rung and you are decidedly on the list of people to watch. Could I be putting myself and my family at risk for retaliation? Absolutely - you must be as careful as possible to remain safe.
What it boils down to is this: No war was ever won, no revolution was ever fought, and no resistance ever succeeded, in which the people did nothing. Apathy will get you exactly what you are getting now, ever-dwindling freedoms that are given and taken through the machinations of those who are not here to look after the best interests of the people.
YOU are the resistance. You can choose to do nothing, like a great number of readers will, and just bemoan the fate of the nation, or you can choose to take action. Even if that action doesn't succeed, every word we say out loud spreads the word of discontent that much further.
Here are some easy ways to mobilize. Just choose one and take half an hour to fight for your country today:
VOLUNTEER TO AID IN ELECTIONS.
If there is a vote occurring near you, find out how you can help. The Republican primaries this year have been nothing but a joke, with More than a month after the fact, the Iowa caucus results keep getting recounted with different results, South Carolina proved that
953 DEAD PEOPLE
were apparently still civic-minded enough to vote, and
FIFTEEN STATES DO NOT REQUIRE PHOTO ID TO CAST A VOTE.
, leaving those votes open to question as well. As discovered by the Ron Paul campaign, our election system is seriously compromised and many watchful eyes are needed to make sure the rules get followed.
REFUTE THE MAINSTREAM MEDIA
Instead of simply preaching to the choir on patriot websites where everyone is on the same page already, consider logging on to the mainstream news sites and spreading your truth there. Use the comments section and spend some time putting seriously considered comments to exposes the lies and the blackouts of the media. Don't let your message get lost in abusive language or insults, simply take the time to submit a rebuttal to the status quo. This is one way to get the word out to people who rely simply on the mainstream.
USE SOCIAL MEDIA TO YOUR BENEFIT.
Despite the fact that I spend lots of blog time sharing the pitfalls of Facebook, Google and the rest of the nation's cyber spy system, I consider it to be knowing my enemy. Many people can be reached through social media networking that might otherwise remain in the dark. I have over 700 "friends" on Facebook, having lived in a lot of places. Every time I post a link to a good article on my Wall, those 700 people are exposed to it. If 10 of the 700 say, hey, that's interesting, and share it, then I reach all of their friends too. Social Media is a tool that can get the word out in exponential numbers.
If you aren't on Facebook or any of the networking sites, just your own email contact list is another way to share information. Find a blog that points things out in a way that you'd like to share? Forward it to everyone on your list. If you don't want to hit everyone, target the people that you think might be starting to see that something is wrong in this country.
PROTEST
While I'm not 100% on board with the goals (or lack thereof) of the Occupy movement, the thing I am forced to admire is how they MADE the media cover them through sheer volume of the people who showed up. No matter what awful things the Gestapo police put them through, they continued to stand strong.
The Occupyers brought a lot of media attention to the abuses of the police and to the fact that their right to peacefully assemble was being denied.
The solidarity of standing with others against injustice is not to be underestimated. Engage respectfully and protect your safety, and then go out there and say "NO."
BE THE SQUEAKY WHEEL
We've all heard that phrase, the squeaky wheel gets the grease. Well, be that squeaky wheel. When you see injustice or trampling of constitutional rights, say something and say it persistently. You can send emails to all parties involved. You can send emails to groups who would be likewise appalled by what you've discovered. You can ask for meetings with local councilmen and law enforcement bigwigs. You can write letters to the editor of your local paper. You can make flyers and stand there and hand them out to let people know what is going on. You can take your local government to court over infractions. However far and publicly you take it is up to you. Just remember to engage intelligently and persistently.
DON'T ALLOW MEDIA BLACKOUTS
We've all been witness to the ongoing media blackout of the Ron Paul campaign. Dr. Paul has been ignored, disrespected and treated as a third line candidate. Only through the well-coordinated efforts of his staffers and volunteers does he receive the positive publicity given for free to the other, more governmentally cooperative candidates. Other media blackouts include:
Monsanto's former executive
MICHEAL TAYLOR HAS BEEN HANDED THE REINS OF THE FDA
In Sicily the mobilization of thousands of citizens in
THE PITCHFORK MOVEMENT
(
they don't want us to get any bright ideas from the Sicilians)
The complete echoing lack of coverage of the
SYRIAN CRISIS
We can combat media blackouts by making sure the alternative websites get the stories. We can also inundate the mainstream media sources with emails asking why a topic is not being covered. We can send email blasts using their contact pages, as well as pointing it out vigorously in the comments sections.
This Resistance to the tyrannists who have overturned the government isn't going to be won by guns blazing and bombs going off. It is going to be won by everyday people saying
Please share comments or ideas about local ways that people can get involved and bring to light the subtle undermining of our way of life. Don't be an armchair patriot! Get involved today - do ONE THING to shed light on a dark evil corner of new fascism surreptitiously creeping it's way across America.