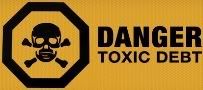 Have you offered up your wrists voluntarily, and allowed the Global Bankers to slap the cuffs on you?
The people of America are slowly waking up and finding themselves in chains and shackles. The pretty dream of a big house surrounded by a white picket fence, two cars in the driveway and a couple of well-dressed athletic children is giving way to the reality of how those things were acquired. Americans are living lives of indentured servitude to the Big Banks and the Big Government.
North Americans have sold their souls to the banker genie in order to have their wishes granted. The genie is out of the bottle and there's no way to put him back. He's determined to get what has been promised to him.
Every cent of money borrowed is another link in the chain that hobbles us. The loan sharks and usurists make up the American financial system are fully endorsed by the American de facto government. Big Banks and Big Government are working together to keep the people in place, in debt and under their thumbs.
Student Loans
Student loans that were taken out to supply the education to net us a job that pays six figures are an ever-tightening noose, strangling the possibility of ever getting ahead, with repayment plans in the THOUSANDS of dollars per month.
A friend who has recently become a Nurse Practitioner just got a statement in the mail informing her that monthly payments on her deferred student loans are a whopping
$2471 per month
!!! And, big surprise - she is NOT earning six figures despite that very pricey education. The payments are due for 30 years and the interest on these payments is $32 a day:
$11, 680 per year
!!!
When you bury someone in that kind of debt, that person will always be in debt. There's no way that my friend can save up the money to pay cash for her vehicle (which she must have for her job) when she is making payments like that. That means another loan for her car. And what about a place to live? Student loans are designed to keep us in debt forever.
Home Loans
Very few people can afford to buy a home or property without a loan. Unfortunately, most of the downpayments and the years that these people have paid their mortgages have done nothing towards getting them any closer to their dreams of home ownership. Sherwood Ross of
Infowars
wrote, "Of the 55-million families with mortgages, 10.4-million of them "are sliding toward failure and foreclosure."
This means that over 20% of the people who have made payments on their homes are about to lose them to the banks - the banks which have already been bailed out! But the banks aren't extending the same courtesy of bailing out the borrowers. Instead they are ousting them from their homes and taking possession of the very soil of the United States, one foreclosure at a time.
Unless you can purchase your home outright, you are unlikely to ever have it paid for in this system designed to keep you on the hamster wheel, ever running but never arriving. If you are one of the lucky people who can keep making payments, you'll be inundated with offers from the bank to lend you money based on your "equity" - this means that they don't want you to
have
equity - because getting that house paid off frees you from them.
Borrowing for your home, and then borrowing again on the value of your home, links you inextricably to the bank for at least 30 years, and that is exactly how they want it. For them, it's win-win: if you make your payments, they own you; if you don't make your payments, they get all the money you've paid so far AND the property. A defaulted home loan is actually MORE profitable because of this.
Credit Card Debt
The people of the United States have accumulated nearly
800 BILLION DOLLARS
in credit card debt. Let that number sink in. Interest rates for these cards go up as high as 49.9%! The entire purpose of a credit card is to purchase something you don't have the money for. Our North American desire for "stuff" has put us so far in the hole that there is no way to climb out. We are paying 3 to 4 times the retail value of items by drawing out our payments for as long as possible at high interest rates.
When a quarter of your monthly budget is spent paying for credit card bills, how can you put aside money for a rainy day? And if you are only making the minimum payments, it will take most people 27 years to pay off their credit card debt. That big screen TV you purchased with a credit card will be at the bottom of a landfill by the time you've paid it off.
The Borrower is Servant to the Lender (
Proverbs 22:7
)
If you are borrowing money in any way, you have made yourself an indentured servant to the Global Elite. You are going to your job for 40 or more hours per week and working your tail off for no other purpose than to give them the money.
You are paying high interest rates that pad their pockets, and in all honesty, you own nothing. That house with the white picket fence? They're just letting you use it for now. The car in the driveway? By the time you own it, it will have high mileage andrequire constant repairs just to keep it running. You will be convinced that it's "cheaper" to just get another one and make monthly payments on that vehicle as well. Those expensive electronic items that you are purchasing with credit cards will be obsolete long before they are paid for.
The bank genies will allow you to keep your goods and homes as long as you can line their pockets with the interest. When you are finally unable to pay those bills, they will take the things that you consider "yours" without a second thought or backwards glance. Then they have your money and your stuff too.
The de facto government is equally complicit with the bankers. The government has bailed out the banks, but not the people. The government adds insult to injury by taxing us on these items that we pay interest to use: property taxes, vehicle licenses and registrations, sales taxes. Then, they tax our income as well, taking even more money out of our hands.
Fight the banks and the global elite who enslave you by breaking the chains of debt. There comes a time when walking away from the debt is the only way to get out of it. You go bankrupt. You lose the home that you are being allowed to live in, so you rent a place to live. You give back your fancy car and buy an old car and pay cash for it. You live with your old TV, you persuade your kids to go to a one-year trade school and you resist the urge to borrow for any reason. It's not the end of the world - it's the beginning of a different world - one in which you have a chance at freedom and owe nothing to Big Banks.
Instead of struggling to make payments on things you will never pay off, take a long hard look at your finances. Look at your options and break free of the debt conspiracy.
Refuse to do business with those who would enslave you. When a bank gives you a loan, that bank is not doing you a favor - it is offering you the handcuffs so you can put them around your own wrists and snap them shut.
Stop working only to increase the bank's bottom line.
Refuse credit. Refuse to pay interest. Resist.