"It does not take a majority to prevail ... but rather an irate, tireless minority, keen on setting brushfires of freedom in the minds of men."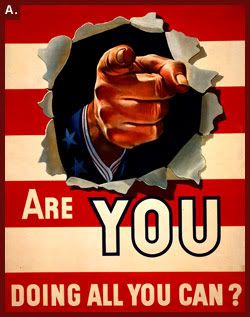 Patriotism is more than a state of mind.

It's not enough to be an armchair patriot, typing furiously in forums about the latest outrage.

There are actions inherent in the title "Patriot". We must recognize our responsibilities in order to change the direction our country (and the world itself) has taken. It's up to us, in our small decisions and deeds, to steer this course back to one of peace, prosperity and independence, secure that our God-given rights are once again inalienable.
The first of these is a willingness to learn
.

We have to cast aside our pride and realize we don't know it all.

Patriotism today is not just an emotion relating to love for a country.

It's a battle every single day against those who would remove our freedoms.

We must educate ourselves on world events, on the relationships between Big Government and Big Business, and on the twisted agenda that threatens to put control of the entire world into the hands of the minute percentage of psychopaths who consider us serfs on a good day, and vermin on a bad day.
Next is a willingness to teach.
Most of us have a mentor to whom we are grateful.

Those who teach are the real leaders, far above the politicians and the military officers that most look to for leadership.

The people who share their knowledge, patiently repeating the message until it gets through, are the real heroes and the ones who will change the world.

If you have learned it, then you have a personal responsibility to pass it on.

If you know something that will aid others in the fight, there is a moral imperative in place to share that information with others.

That truth will be shared exponentially, and those tenets generally recognized as true will expand to encompass the real story behind the hostile takeover of liberty.
The next responsibility is the willingness to take care of ourselves.
Dependency is what got us into this mess in the first place.

Our society is built on a system that depends on Big Government and the offerings of Big Business for survival. Most people no longer know how to feed themselves if the food isn't neatly packaged in Styrofoam, a can or a cardboard box.

People are no longer producers, but consumers. People are dependent on Big Agri for food, Big Pharma for health and Big Business for livelihoods, energy sources and entertainment.

In turn, Big Government supplies a large percentage of the people with the fake fiat currency to pay for these goods and services through welfare and other "benefits".

Dependency on this funding, in turn, keeps people in line – if they don't follow the rules, they don't receive their benefits.

Big Government, via the federal governments and the United Nations, regulates independence right out of existence with the many laws and restrictions that clamp down on those who strive to provide for themselves.

They have intentionally created a world that relies so integrally upon them that society would be utterly and completely lost without them.
Finally we all have the responsibility to resist tyranny.
Silence is acceptance of the status quo.

By allowing ourselves to be herded along we become complicit in our own enslavement. It is inherent upon each and every one of us never to accept the unacceptable, because if we do not resoundingly say "No!" we are tacitly saying "yes".

It might be more convenient to simply grit our teeth and allow the TSA to grope us in the airport but it is our responsibility to make it as difficult and unpleasant as possible.

It might be far easier to look the other way as yet another God-given right is taken away, but it's imperative to fight it every step of the way.

Many will opt for silence when they see the rights of others infringed upon, merely being glad that this time, they are not the victim of the oppression.

If we don't stand in defense of our neighbors, then who will stand up with us when Tyranny knocks on our own door?
In 1811, Thomas Jefferson wrote something omniscient:

If we find our government in all its branches rushing headlong, like our predecessors, into the arms of monarchy, if we find them violating our dearest rights, the trial by jury, the freedom of the press, the freedom of opinion, civil or religious, or opening on our peace of mind or personal safety the sluices of terrorism, if we see them raising standing armies, when the absence of all other danger points to these as the sole objects on which they are to be employed, then indeed let us withdraw and call the nation to its tents.
Every threat that Jefferson mentioned is evident today in our own de facto government.

The call has been sounded.
Let us learn, teach, flourish, and resist.
It's all in a day's work for a real Patriot.